Getting a Grip on Time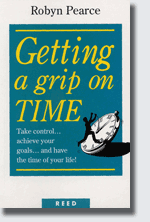 Robyn's practical and commonsense approach to time management focuses on restoring quality, balance and enjoyment to life. By first looking at the 'big picture' she demonstrates that it is possible to control and achieve your goals.
And then, having laid a sound foundation in showing you how to easily plan and prioritize (the big challenge for many folk), she leads you into a grand assortment of really useful and easy-to-read help with delegation, meetings, the paper war, telephones, interruptions, procrastination, and heaps more.
Robyn's learned her subject from the ground up. Despite the time-juggling skills she needed to use to survive raising 6 kids, she reckons she wasn't good at it. The biggest challenge was trying to fit too much into the day - there never seemed to be enough hours.
So - here you have road-tested simple methods, learned, used and adapted by someone who turned herself from a successful but burnt-out real estate agent into one of the world's top specialists in time management.
$16.95 (US) plus tax and handling
Reviews
I'm a 21-year-old Personal Trainer in Dunedin, NZ. I have 70-90 hour weeks at the gym. I also am a landlord and operate another business in my other time as well as putting together the beginnings of another business of my own. So I have what I think is a very busy week.
I have only had your book for 4 days and am only half-way through it but it has made a tremendous difference to my life! It has changed the way I think about time, made me realise what my values are and to help strengthen my values and core beliefs. It has also helped me in the way I deal with my clients as well as my friends and anyone else I meet.
I have read many self-development books before yours, but yours truly stands out. Thank you very much for your experiences.
Mike
Dunedin, NZ

In the real estate world the way we use our time is the single biggest indicator of success. Robyn Pearce's 'Getting a grip on time' is a first class guidebook for success, whether we are owners, managers or salespeople. Clearly and concisely she shows how to prioritise, focus on your key activities, avoid procrastination, and become effective.
But the book is more than a time management text. It helps you balance your whole life through planning, delegation, and coping with the information and paper avalanche we all face. I will be eternally grateful for her practical tips on office management, filing, and clearing any messy desk.
Thoroughly recommended.
Clyth MacLeod
Managing Director of Clyth MacLeod Ltd
and former District President and National Councillor of the Real Estate Institute of New Zealand

"Robyn, your book is my constant bedtime reading. I can't begin to tell you how much it has helped keep me sane in the last frantically busy six months."
Judy
Personnel Manager
Telecommunications company

"An easy read - demystifies so much, makes it simple, practical, and easy to implement. I feel as though I've got my life back. Keep up the good work, Robyn, and I look forward to the next one. My desk has never looked so good!"
Ken
PR Consultant

"I read your book in one flight between Auckland and Sydney - it was as if I had you in the seat next to me and we were having a chat. So many management texts are heavy work - this one is easy, sensible and practical, and yet there are all manner of things I hadn't thought of in quite the way you put it. Loved the bit about the different personalities, and can't wait to implement the meeting strategies."
Catherine
Marketing Manager
IT company

"I was told this book is really 3 books in one. I would almost say it is nearly all the books I've read about time management, goal setting, effective habits etc, in one. Easy to read and full of practical ideas. Puts a whole new and simple perspective on goal setting and why the strict focused way blows most of us out of the water.
Robyn shows you that time management is more than simply managing your time. To have good time management skills you need to know what is actually important in your life, your values and balancing it all.
She calls the first half of the book "Common-sense Time Management for all the areas of your life, not just the work bits". Every area of your life should reflect your values and beliefs. Having worked through those, the second half is about becoming efficient, once you've become effective. A book I would recommend to any professional, mother, parent, just simply every body.
I've read plenty of books before that give you exercises to do, and this is the first time I've ever followed the instructions, which were very easy. Somehow, it was as if Robyn was there beside me, helping."
Buy it, read it, do it and see your life improving.
Elle Anderson
AdvanceU Executive Coaching
Ph (+64) 9 292 4368

"I bought your book about 2 years ago, and still reference it. Your personality bounces off the pages - so easy to read, fun, and really helpful. Keep up the good work."
Gerda Smith
Teacher at Te Awamutu College, New Zealand

ISBN No. 0-7900-0470-4
---
Your exclusive resource No Regrets Leadership Coaching
Planning an event, training, retreat or conference?
Contact LaVonn Steiner at EXCEL LEADERSHIP today!
Toll free 1-701-527-3237